Heating & Air Conditioning in Glendora, CA
If you're searching for a Glendora air conditioning or heating contractor who really pays attention to your unique requirements, and an HVAC contractor who has the experience needed to offer you the perfect indoor comfort solution, then you've come to the right place! At Connor Air Conditioning & Heating, we spend each day ensuring that our Glendora air conditioning customers are completely happy with the heating, cooling and indoor air quality products and HVAC services we provide.
Heating Services
Connor Air Conditioning & Heating is the trusted name for reliable heating solutions in Glendora. With a strong presence in the community, Connor Air is known for its expertise in servicing a wide range of heating systems. Their team of experienced technicians is well-equipped to handle repairs and installations for all makes and models of heating equipment. Whether it's a minor repair or a complete system overhaul, Connor Air has the experience and knowledge to ensure your heating needs are met with precision.
Furnace Installation in Glendora
For superior furnace installation in Glendora, Connor Air Conditioning & Heating is the go-to company. Specializing in Lennox heating systems, they offer high-caliber products known for their efficiency and reliability. The installation team at Connor Air is highly experienced, guaranteeing a seamless setup of your new Lennox furnace for peak performance. Whether you're upgrading an existing system or embarking on a new furnace installation, Connor Air ensures a professional and hassle-free experience, leaving you with a cozy and well-heated home in Glendora.
Furnace Repair
If you encounter furnace troubles in Glendora, turn to Connor Air Conditioning & Heating for dependable repair services. Their highly trained technicians are adept at diagnosing and addressing various furnace issues efficiently. With a deep understanding of different furnace models, you can trust that Connor Air is well-prepared to restore your heating system to optimal performance, ensuring a warm and comfortable home environment.
Air Conditioning Services In Glendora
Specializing in residential and commercial air conditioning repair & installation, we are committed to keeping our clients' homes cool with the best air conditioning services in Glendora. Air conditioner repair is one of the best, most cost-effective ways to stay cool in the summer and keep your system running at full capacity. No job is too big or small, and we deliver 100% customer satisfaction on every project.
Call Connor Air for air conditioning installation in Glendora, CA and the surrounding areas. Our experienced technicians specialize in providing top-quality installations, whether it's a new installation or a replacement for an older unit. We offer a wide range of air conditioning systems to choose from and work with you to recommend the most suitable one for your home. Our installation services are done with utmost care and attention to detail, ensuring that your new system runs smoothly and efficiently.
At Connor Air Conditioning & Heating, we don't just stop at AC installation. We also offer ongoing maintenance and repair services to keep your air conditioning system running at its best for years to come. Our technicians can handle everything from routine maintenance tasks to major repairs and replacements. With our comprehensive air conditioning services, you can enjoy a cool and comfortable home all year round.
Trust Connor Air Conditioning & Heating for all your air conditioning installation needs in Glendora, CA. Contact us today to schedule an appointment or to learn more about our services.
When you need air conditioning repair in Glendora our technicians have the know-how to diagnose, adjust or repair any air conditioning system so that you are comfortable all year long.
You'll get fast service with expert air conditioning repairs from our NATE certified HVAC service technicians. NATE certification means we have the experience, skills and tools to fix HVAC problems the first time. So when you need your Glendora AC repaired fast, just give us a call.
Heat Pump Services
Connor Air offers a wide range of services related to heat pumps. Their offerings include professional heat pump installation, ensuring that customers receive high-quality systems tailored to their specific needs. In addition to installation, Connor Air excels in heat pump repair services, with their team of skilled technicians capable of handling repairs on all makes and models of heat pumps. They have the knowledge and experience to diagnose and troubleshoot issues efficiently, providing effective solutions to restore optimal functioning. With a commitment to customer satisfaction, Connor Air strives to deliver reliable and energy-efficient heat pump services in Glendora, ensuring comfort and peace of mind for homeowners and businesses alike.
Connor Air specializes in providing top-notch heat pump installation services to customers looking for efficient and reliable heating and cooling solutions. With a strong focus on customer satisfaction, Connor Air ensures that each installation is meticulously executed by their team of skilled technicians. As an authorized dealer of Lennox heat pumps, customers can trust that Connor Air will install high-quality systems that meet their specific needs and deliver exceptional performance. Whether it's a residential or commercial project, Connor Air's expertise in heat pump installation ensures that customers receive an energy-efficient and cost-effective solution for their heating and cooling requirements.
When it comes to heat pump repairs, Connor Air is the go-to company for prompt and reliable service. With a commitment to serving their customers, Connor Air's team of experienced technicians is well-equipped to handle repairs on all makes and models of heat pumps, ensuring that customers' systems are up and running efficiently in no time. From diagnosing and troubleshooting issues to performing necessary repairs, Connor Air's technicians have the expertise and knowledge to tackle a wide range of heat pump problems. Whether it's a minor glitch or a major malfunction, customers can rely on Connor Air to provide efficient and effective heat pump repair services, restoring comfort to their homes or businesses.
Ductless Mini Split Installation in Glendora, CA
If you're interested in ductless mini split system installation in Glendora, CA, the technicians at Connor Air can handle the job. From ductless mini split repair to new installation, we have many years of experience working with all different types and brands of systems. Ductless mini split systems are a great air conditioning system for many homeowners in California.
We install Mitsubishi Electric & Samsung ductless mini splits in Glendora.
Duct Cleaning in  Glendora, CA
The HVAC technicians at Connor Air Conditioning & Heating are expert duct cleaners in Glendora who will have your system looking and functioning like new! Duct cleaning refers to the cleaning of various heating and cooling system components of forced air systems, including the supply and return air ducts and registers, grilles and diffusers, heat exchangers heating and cooling coils, etc. If not properly maintained, these components may become contaminated with particles of dust, pollen, mold or other debris. Some of these contaminants may cause allergic reactions or other symptoms in people if they are exposed to them.
Duct Cleaning – Clean Duct Work
Pricing Can Range from $750.00 – $1,500.00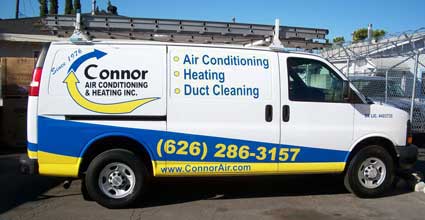 air conditioning & heating
in Glendora, CA