Air Conditioning & Heating in Monrovia, CA
Monrovia, CA is located 20 miles northeast of Los Angeles at the base of the Sierra Madre Mountains. Part of the San Gabriel Valley, it is eight miles east of the city of Pasadena, with a climate that is typical of a Southern California inland valley – with summer temperatures tending to be in the high 70's, and winter temperatures tending to be in the 50's.
When you need work done in your home, you need a trustworthy heating and air conditioning company like Connor Air, a Monrovia air conditioning contractor, to provide you with highly specialized knowledge and skills that only years of training and experience can give you. A heating, ventilation, and air conditioning contractor not only helps keep you comfortable in your home, but also protects you and your family from harmful fumes and toxins.
Air Conditioning Installation in Monrovia, CA
Many HVAC companies are on the forefront of the "green" energy-conserving revolution. Connor Air installs heating & air conditioning that have technologies to help save you money and help protect our environment. ENERGY STAR heating and cooling products & equipment meet strict energy efficiency guidelines set by the U.S. Environmental Protection Agency, and offer significant long-term energy savings. Learn more with these informational and energy-saving tips. Get a free estimate for air conditioning installation in Monrovia, CA.
AC Repair
Connor Air is trained to work on all major brands of air conditioning equipment. When your air conditioner breaks down, you want to call someone you can trust. Call Connor Air for AC repair in Monrovia, CA!
Heating
Connor Air offers repair, service and installation of heating systems in Monrovia, CA. Our commitment to deliver top quality products and services helped us become one of Monrovia's most trusted HVAC companies. Get a free estimate for furnace installation.
Furnace Repair in Monrovia, CA
Our heating repair services are not limited to one make or model of equipment. Whatever make or model our extensive experience allows us to properly repair and service the unit. Call Connor Air when you ready for furnace repair in Monrovia.
Furnace Installation
Get the peace of mind knowing that you will have a trusted and high quality professional providing an estimates for furnace installation. We can tackle all projects, from big to small and provide advice on furnace installation in Monrovia, CA. We will help make the process easier by finding a heating system that matches your comfort needs and budget.
Monrovia Heating Contractor
Connor Air Conditioning & Heating is also your professional Monrovia Heating Contractor, specializing in furnace repair & installation in Monrovia, CA. A furnace typically fulfills two primary roles in your home comfort: 1) It provides heat for your home, and 2) it is responsible for circulating air through your ductwork. A variable speed fan also affects efficiency and comfort. When your furnace has a variable speed fan, it can keep your home more comfortable with quieter operation and lower energy use then traditional single speed fans. This means that even in the summer months, a furnace contributes to the comfort and cooling efficiency you experience.
Ductless Mini Split Installation
When we install a new ductless mini split system for you, our Monrovia technicians make every effort to minimize disruption to your home or your daily routine. Our qualified technicians show up in clean uniforms, use drop cloths, and wear shoe covers to protect floors. We provide installations for a variety of ductless mini splits. Because these systems are installed as individual units, there's no need to install ductwork. If you have an existing forced air system, and your air ducts are in poor condition, ductless mini splits may be a good option for you if you don't want to replace or seal the ducts. With a ductless mini split, you get an energy efficient way to heat and cool your home, and it also provides zone control. We can help you select how many units to install and where. We also install thermostats that are designed to work with a variety of ductless heat pump models.
Ductless Heating & Cooling Monrovia, CA
Get reliable heating and cooling without the ductwork with a ductless heating and cooling system from Mitsubishi Electric Cooling & Heating. Mitsubishi's ductless mini split systems give you the ability to adapt your home to fit your ever-changing needs, transforming from one up to eight rooms at a time into living spaces offering the ultimate in comfort and energy efficiency.
Ductless Mini Split Replacement
If you are wondering whether it would be better to fix your old ductless mini split system or install a brand new one, give us a call. We will be happy to discuss it with you and give you a recommendation based on your particular situation. We install a variety of ductless mini split models that feature the latest in energy efficient technology. Connor Air will be there from the start to help you choose the ductless system that matches your needs.
Duct Cleaning
Duct cleaning keeps you system free of dust & allergens that can be spread through your house. It also keeps your HVAC system running more efficiently. Call us at (626) 286-3157 to find out more!
Duct Cleaning – Clean Duct Work
Pricing Can Range from $750.00 – $1,500.00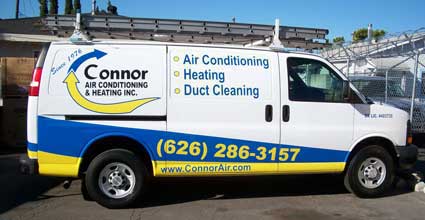 air conditioning & heating
in Monrovia, CA