Air Conditioning & Heating in El Monte, CA
Historically known as "the End of the Santa Fe Trail," El Monte lies in the San Gabriel Valley region, east of the city of Los Angeles. El Monte's climate is warm during summer when temperatures tend to be in the 70's and cool during winter when temperatures tend to be in the 50's. Strong winds known as Santa Ana's can bring particularly hot air in summer and fall, as air from the desert crosses the mountains and descends into the San Gabriel Valley.
Heating Services
When it comes to reliable heating solutions in El Monte, Connor Air Conditioning & Heating stands out as the go-to choice. With a solid reputation in the community, Connor Air is known for its expertise in handling a wide range of heating systems. Their team of skilled technicians is proficient in repairing and installing heating systems of all makes and models. Whether you're facing a minor repair or seeking a complete installation, Connor Air has the experience and knowledge to ensure your heating needs are met with precision.
Furnace Installation in El Monte
When it comes to furnace installation in El Monte, Connor Air Conditioning & Heating is the preferred choice. Specializing in Lennox heating systems, they offer top-tier products known for their efficiency and reliability. The installation team at Connor Air is highly experienced, ensuring a seamless and precise setup of your new Lennox furnace for peak performance. Whether you're upgrading an existing system or installing a furnace for the first time, Connor Air guarantees a professional and hassle-free experience, leaving you with a cozy and well-heated home in El Monte.
Furnace Repair
Experiencing furnace troubles in El Monte? Trust Connor Air Conditioning & Heating for dependable furnace repair services. Their technicians are highly trained to diagnose and rectify a variety of furnace issues. With an in-depth understanding of different furnace models, you can have confidence that Connor Air is well-prepared to restore your heating system to optimal performance, guaranteeing a warm and comfortable home environment.
Air Conditioning & Heating Repair and Installation In El Monte, CA
When the Santa Ana winds blow and the summer sun heats up, you need a reliable HVAC contractor to call for heating &  air conditioning service in El Monte, CA. We can repair any air conditioner or furnace in El Monte, CA.
At Connor Air, we make it a part of our every day practice to ensure that our El Monte customers are completely satisfied with the air conditioning, heating and indoor air quality products and services that we provide. We are an El Monte HVAC contractor who listens to your unique requirements, and has the experience required to recommend the best solution for your needs. Our top of the line heating and cooling products are not only reliable but highly efficient, giving you the indoor comfort control you deserve at an affordable price.
Expert Air Conditioning Installation in El Monte
Our dedication extends to air conditioning installation. We bring the same meticulous attention to this crucial aspect, ensuring a seamless installation process that aligns with your preferences. With a focus on quality craftsmanship, we transform your space into an oasis of comfort with our expertly installed air conditioning systems.
Heat Pump Services
For reliable heat pump installation and repair services in El Monte, turn to the experts at Connor Air Conditioning & Heating. Their team of experienced technicians is equipped to handle all your heat pump needs, from installation to maintenance and repair. Using only high-quality products and equipment, they ensure your heat pump runs efficiently and effectively, providing year-round comfort for your home. With a commitment to exceptional customer service and quality workmanship, Connor Air has established themselves as one of the leading HVAC service providers in El Monte. Contact them today to schedule a consultation and experience the difference with Connor Air.
Ductless Installation
Ductless mini-split systems can help you save on your energy expenses in a few ways. Most air conditioning systems that use ducts run through spaces that are not temperature controlled, such as the attic or crawlspace. This leads to energy losses and causes your cooling system to work extra hard. As mini-split systems don't use ducts, they avoid this loss of energy. In addition, the flexibility of mini-split systems also helps you save energy and money by allowing you to cool only the spaces that are occupied at a given time.
Connor Air installs Mitsubishi Electric & Samsung mini splits.
Duct Cleaning in El Monte, CA
Indoor air quality is important, and clean ducts play a role in this. Duct cleaning can also help improve the efficiency of your system. You may be surprised to see what has accumulated over the years! We provide duct cleaning services because we believe in the total health of your home, and we also do everything we can to up the efficiency of your system and lower those utility bills. Contact us today for more information.
Duct Cleaning – Clean Duct Work
Pricing Can Range from $750.00 – $1,500.00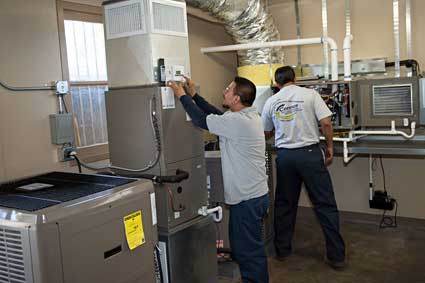 air conditioning & heating service
in El Monte, CA