Air Conditioning & Heating in Monterey Park, CA
Monterey Park is part of a cluster of cities in the west San Gabriel Valley with a climate that is typical of a Southern California inland valley – with summer temperatures tending to be in the high 70's, and winter temperatures tending to be in the 50's.
At Connor Air, we offer a full range of heating and air conditioning services in Monterey Park , CA. From installation of new equipment to heating and air conditioning repairs, we do it all. Our commitment is to provide honest, professional and affordable service on every job – big or small, residential or commercial.
Our primary goal at Connor Air in Monterey Park is to keep your home comfortable YEAR ROUND. We also offer you peace of mind, ensuring that your HVAC equipment operates safely and efficiently. We help you save money on your fuel bills, and we help deliver relief to those with allergies and other concerns about the quality of the air they breathe.
Heating Services
If your heating system is not warming your home like it used to or has stopped working altogether, Connor Air can help. We understand how inconvenient and uncomfortable issues with your heater can be. Our technicians have experience fixing all furnaces, heat pumps and heating systems. If your furnace cannot be repaired, we can help you find a replacement.
Furnace Repair in Monterey Park any Make or Model
Connor Air's technicians have the tools, training and experience to quickly and reliably repair any make or model of furnace that your Monterey Park home may have.
Our NATE certified HVAC technicians are trained to diagnose and repair all major brands of furnaces, whether we installed them or not. We maintain an extensive stock of parts in our warehouse, and most commonly needed parts are always in our service trucks.
Air Conditioning
When you need fast & quality air conditioning service in Monterey Park, CA call Connor Air. We provide sales, installation, service and maintenance for heat pumps, air conditioning & mini splits for both residential and commercial. We pride ourselves on providing a prompt and competitive solution for all our customers' air conditioning requirements. We service all makes and models of air conditioning equipment in Monterey Park and the Los Angeles area.
Air Conditioning Repair You Can Trust
When you need AC repair in Monterey Park, CA call the company you can trust, Connor Air. Positive reviews and word-of-mouth referrals are the result of our commitment to quality service & customer satisfaction. Connor Air's team of experts, specialize in cooling repair and outfitted with state-of-the-art technology. Utilizing advanced diagnostics, specialized tools, and an accessible inventory of replacement parts. We not only get to the bottom of problems straightaway, we resolve them without multiple visits.
Air Conditioning Installation
Connor Air employs friendly, helpful installation staff, who are well trained in all aspects of air conditioning installation. The quality of the installation is a very important component in the long term efficiency and operation of the system.
Mini Split Installation
Whether you have a single uncomfortable room, you're renovating your entire house, or you're building a home from scratch, we have a comfort system that fits your unique needs. Because our systems focus on individual living spaces rather than treating every room the same, it's more customizable & more energy efficient.
Duct Cleaning
Duct cleaning keeps you system free of dust & allergens that can be spread through your house. It also keeps your HVAC system running more efficiently. Call us at (626) 286-3157 to find out more!
Duct Cleaning – Clean Duct Work
Pricing Can Range from $750.00 – $1,500.00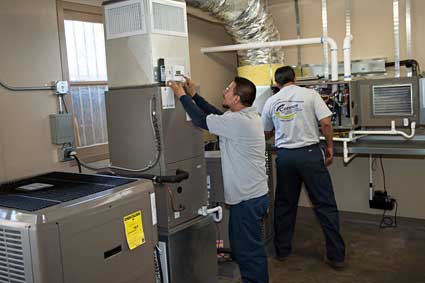 air conditioning & heating
in Monterey Park, CA