Air Conditioning & Heating in Rosemead, CA
Connor Air Conditioning & Heating is a local California AC contractor specialized in both residential and commercial applications. Our NATE certified technicians are best of breed with the knowledge and experience required to quickly diagnose any residential or commercial HVAC problem. In addition to maintenance and repair, we also specialize in turnkey installations for new construction and retrofit requirements. Ask us about ductless mini splits!
Expert Heating Services
For dependable heating solutions in Rosemead, Connor Air Conditioning & Heating stands out as a reliable choice. Our experienced technicians are well-versed in both heating repair and installation services. We take pride in our ability to proficiently handle repairs for all makes and models of heating systems, ensuring your home remains comfortable year-round. In addition, if you're considering a new installation, we specialize in fitting homes with Lennox heating systems, known for their top-tier quality and energy efficiency. Our team will work closely with you to assess your specific needs, providing a seamless installation process that guarantees reliable and efficient heating for years to come.
Seamless Furnace Installation in Rosemead
For professional furnace installation in Rosemead, trust Connor Air Conditioning & Heating to handle the job with precision and expertise. We specialize in installing Lennox heating systems, renowned for their high-quality and energy-efficient performance. Our team will collaborate closely with you to determine the right system for your home's specific needs and ensure a seamless installation process. With our commitment to quality workmanship, you can trust that your new furnace will be installed to the highest industry standards, providing you with reliable and efficient heating for years to come.
Dependable Furnace Repair Solutions
When it comes to furnace repair in Rosemead, Connor Air Conditioning & Heating is your go-to expert. Our skilled technicians possess extensive knowledge in diagnosing and repairing a wide array of furnace issues. Whether it's a malfunctioning thermostat, a worn-out fan motor, or an ignition problem, we have the expertise to get your furnace back up and running. We understand the urgency of a well-functioning furnace, especially during colder months, and are committed to providing prompt and effective repair services to restore comfort in your home.
Air Conditioning Service in Rosemead, CA
Unless you are situated right on the coast, a reliable and efficient cooling system is a requirement for our Southern California summer season. Whether cooling a large office building, restaurant kitchen, or a residential home, air conditioning is something that just cannot fail. A central cooling system must run as efficiently as possible to avoid incurring high Southern California Edison bills. As your trusted local AC Contractor, we are experts at the fine details of air conditioning service including maintenance, repair and installation. There is no problem that we cannot quickly assess, and take care of in a timely matter, and in the way it should be done. Call us for air conditioning service in Rosemead, CA.
Air Conditioning Repair
AC repair in Rosemead is not a pleasant topic when your system is down in the middle of August. However we will ease the pain of a cooling system break down with fast, timely repair work to get you back up and running as soon as possible. Our years of HVAC experience mean we'll perform air conditioning repair work for you the right way, and in the most cost effective manner.
AC Installation
Many things go into the installation of a cooling system. Proper system design is crucial to avoid losing substantial amounts of money in lost efficiency due to improper sizing, poor ducting, overlooked component matching – and the list goes on. We will protect your residential or commercial investment by installing the perfect system for your specific requirements. There is no such thing as a cookie cutter AC installation. This is highly technical work that should be performed by a contractor with experience.
Heat Pump Services in Rosemead
If you're searching for heat pump services in Rosemead, call Connor Air! Our skilled team of HVAC technicians has been providing quality heat pump installation, repair, maintenance, and replacement services  in Rosemead since 1976. We understand that a well-functioning heat pump is essential to keep your home or business comfortable year-round, and we're committed to delivering prompt, dependable service that gets the job done right the first time. Whether you need routine maintenance to keep your existing system running efficiently, urgent repair services to fix a malfunctioning heat pump, or a new installation, we're here to help. At Connor Air, we prioritize customer satisfaction and always strive to provide personalized attention and cost-effective solutions to meet your unique needs. So, don't wait any longer, call us today to schedule an appointment with one of our expert technicians and experience the exceptional heat pump services we offer!
Ductless Mini Splits
It's never been easier to keep everyone in your house comfortable, without spending a fortune on your energy bills.  Get an in-home consultation how ductless mini splits would work in your home or business.
Duct Cleaning
Duct cleaning keeps you system free of dust & allergens that can be spread through your house. It also keeps your HVAC system running more efficiently. Call us at (626) 286-3157 to find out more!
Duct Cleaning – Clean Duct Work
Pricing Can Range from $750.00 – $1,500.00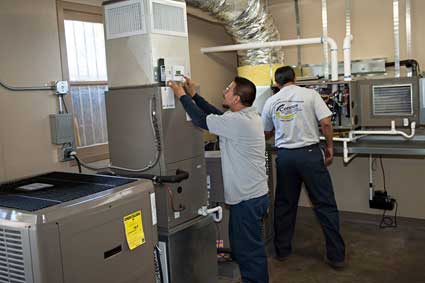 air conditioning & heating
in Rosemead, CA