Air Conditioning & Heating in Duarte, CA
Located on historic U.S. Route 66, the city of Duarte is bounded on the north by the San Gabriel Mountains, to the north and west by the cities of Bradbury and Monrovia, to the south and the east by the cities of Irwindale and Azusa. The climate of Duarte is typical of a Southern California inland valley, with mild winters and hot summers. Due to the city's inland location, summers are generally hotter and winters often cooler than in coastal parts of metropolitan Los Angeles.
Air Conditioning
Connor Air Conditioning installs efficient air conditioners and heat pumps with R-410A refrigerant and high SEER ratings that will save you money on your utility bills. Our extensive experience in the heating & cooling industry means we know what manufacturers are the best – we install air conditioning and heating equipment for our customers that we would trust in our own homes. It's our commitment to making sure you're satisfied.
If you own a home, then most likely you own an air conditioner. Air conditioning comprises a high percentage of your monthly utility bills in the summer, so you need your equipment to run efficiently while also providing the reliable cooling performance you depend on to keep your family comfortable. Connor Air provides air conditioners and heat pumps that use R-410A refrigerant and have high SEER ratings to save on your utility bills and protect our environment. Learn more about air conditioners, furnaces and other HVAC products we offer.
AC Repair in Duarte, CA
With years of experience and training in cooling systems, our knowledgeable technicians are skilled at working on all types of air conditioning units, no matter how old. Experts in diagnostics, we'll quickly find the issue, fixing it without delay. We arrive in well-stocked trucks, complete with any service parts to quickly repair your air conditioner. When you need AC repair in Duarte, CA call Connor Air Conditioning & Heating.
Heating
Chances are, the last thing you think about is your furnace. You simply expect it will keep you warm in the winter. We offer some of the finest heating solutions in the business. Quality, innovative products with the latest technology, lasting performance, great warranties and excellent service and support.
As a trusted Trane installer, we have been evaluated for technical know-how and excellent customer service practices. We continue to take additional education with Trane to ensure we know how to install your furnace so it performs better and lasts longer.
Our furnace experts can help you navigate through the variety of features of the different models to find the one that's the perfect match for your home, your comfort preferences and your budget. Your new furnace will have the best warranties around.
Get a free estimate for furnace installation in Duarte, CA.
Ductless Mini Split Installation
A ductless split system is also a great option if you have a converted attic, new addition or finished basement in your home.
These high-efficiency HVAC systems can also help you save money by helping to keep your most-used rooms optimally comfortable, so that even if you have ductwork, you can potentially spend less on heating and cooling costs for the rest of your home.
We are proud to offer the Mitsubishi Electric & Samsung ductless split systems, both of which are among the highest quality, most energy-efficient ductless split systems available. Connor Air will help you pick the right ductless mini split system to fit your needs.
Duct Cleaning in Duarte, CA
Indoor air quality is important, and clean ducts play a role in this. Duct cleaning can also help improve the efficiency of your system. You may be surprised to see what has accumulated over the years! We provide duct cleaning services because we believe in the total health of your home, and we also do everything we can to up the efficiency of your system and lower those utility bills. Contact us today for more information.
Duct Cleaning – Clean Duct Work
Pricing Can Range from $750.00 – $1,500.00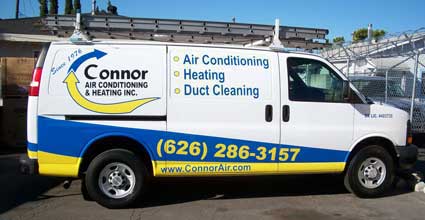 air conditioning & heating Service
in Duarte, CA