Ductless Mini Split Installation in Glendora, CA
Ductless Split Systems afford you the option to not heat or cool unused rooms, such as guest bedrooms, without compromising the comfort of the rest of your home. There are many benefits of installing ductless split systems in your home, potential energy and financial savings as well as not having to install additional ducts in your home.
We install mini splits that offer unmatched energy efficiency, performance and control to home cooling and heating. It's never been easier to keep everyone in your house comfortable, without spending a fortune on your energy bills.
Get an estimate from Connor Air for ductless mini split installation in Glendora, CA.
Expanding your comfort zone.
Zoning is a method of dividing a home into independently controlled temperature zones for enhanced comfort and efficiency. Unlike a central system that may only have a single thermostat controlling the whole house, zoned systems give you greater control over different areas or zones. A multi-zone system uses multiple indoor units connected to a single outdoor unit to allow you to either heat or cool areas where you spend the most time differently than those you don't use as much. This saves energy and helps reduce energy costs, regardless of the time of year.
Ductless Mini Split Options
Ductless mini-split systems are available in a variety of configurations that allow customization for specific needs. Homeowners can control their home's temperature room-by-room, through a wall-mounted thermostat, handheld remote or through an app on a mobile device or tablet.
NATE Certified
Connor Air Conditioning & Heating is a NATE certified that provides residential and commercial customers with the best quality of products and services Glendora, CA. Providing exceptional workmanship for your complete satisfaction since 1976.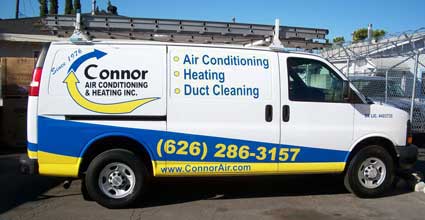 Ductless Mini Split Installation
in Glendora, CA