Heating & Air Conditioning in La Verne, CA
At Connor Air, we understand the significance of your home's HVAC system in maintaining a healthy and comfortable living environment. As a homeowner, investing in an efficient HVAC system is crucial, and it can also be one of the largest investments you'll make. With modern HVAC technologies, La Verne homeowners have numerous options to enhance their home's comfort while saving money and gaining more control.
As the leading HVAC contractor in La Verne, Connor Air takes pride in our experience, training, and industry certifications. Our team of technicians brings a wealth of expertise and pays meticulous attention to every detail in every job we undertake. This commitment to excellence is why our customers hold us in high regard. You can trust us to assist you with any aspect of your home's heating and cooling system. We guarantee your satisfaction!
If you're in need of air conditioning and heating installation in La Verne, look no further. Contact us today at (626) 286-3157 and experience quality service that sets Connor Air apart.
Heating Solutions in La Verne
Connor Air Conditioning & Heating is the go-to source for comprehensive heating services in La Verne, CA. Our team of seasoned technicians excels in both heating system repairs and installations, ensuring homes remain comfortable year-round. From minor adjustments to major overhauls, Connor Air Conditioning & Heating brings a wealth of expertise to every project, proficiently handling repairs for heating systems of all makes and models. Their unwavering commitment to precision and efficiency is evident in every tailored solution, addressing each client's unique needs.
Expert Furnace Installations for Enduring Comfort
For furnace installation in La Verne, Connor Air Conditioning & Heating offers a specialized approach. As authorized installers of Lennox heating systems, they provide access to a premium range of high-quality, energy-efficient furnaces. The installation process is executed with precision and expertise, ensuring optimal performance and longevity. Clients can trust Connor Air Conditioning & Heating to assess their specific heating needs and recommend the most suitable Lennox system, delivering a seamless and efficient installation experience that guarantees years of reliable warmth.
Rapid and Reliable Furnace Repairs
When it comes to furnace repair in La Verne, residents trust Connor Air Conditioning & Heating for prompt and effective service. The company understands the urgency of a malfunctioning furnace, especially during the cooler months. Their skilled technicians promptly diagnose issues and carry out necessary repairs, swiftly restoring warmth to homes. With a comprehensive understanding of various furnace models, Connor Air Conditioning & Heating ensures transparency and honesty in their service, providing clients with clear information throughout the repair process.
Air Conditioning in La Verne, CA
An inland summer in California can be pretty hot, but a reliable air conditioning system keeping you cool makes all the difference! The size of your Southern California Edison bills are largely determined by the efficiency of your air conditioner, and the quality of installation that was performed. Maintenance also plays a huge role in keeping those electric bills down. Whether you need an air conditioner repaired, or an estimate on a new AC installation, Connor Air is the one to call for air conditioning services in La Verne. Ask us about ductless mini split systems.
When it comes to air conditioning installation in La Verne, CA, Connor Air stands out as the trusted provider of customized cooling solutions. We recognize that selecting the right air conditioner is just the beginning. Our experienced team takes into account factors such as indoor coil, fan motor, thermostat, and ducting to ensure a perfectly tailored installation that guarantees both comfort and efficiency. With our meticulous approach and attention to detail, we deliver air conditioning systems that meet your unique requirements, providing optimal performance and lasting value for your home or business.
When your air conditioner malfunctions, count on Connor Air for swift and reliable AC repair services in La Verne, CA. With decades of industry experience, our skilled technicians have an in-depth understanding of cooling systems and can quickly diagnose and resolve issues with all makes and models of equipment. We understand the importance of a functioning AC system, especially in the warm La Verne climate. That's why our team works diligently to assess the problem and perform necessary repairs with efficiency and precision. Trust Connor Air to restore your AC system promptly, ensuring your comfort is restored and avoiding any further inconvenience.
Heat Pump Services
We provide comprehensive heat pump services to ensure your comfort and optimize energy efficiency. Our team of skilled technicians has the expertise to handle all aspects of heat pump maintenance, installation, and repair. With our commitment to customer satisfaction, we strive to deliver exceptional service that exceeds your expectations. Whether you need routine maintenance to keep your heat pump running smoothly or require professional installation or repair, Connor Air is your trusted partner for all your heat pump service needs.
When it comes to heat pump installation in La Verne, Connor Air offers top-quality solutions using Lennox heat pumps. Our partnership with Lennox allows us to provide you with highly efficient and reliable heat pumps that meet your specific requirements. Our experienced technicians carefully assess your property and design a customized installation plan to ensure optimal performance and energy efficiency. With our attention to detail and commitment to excellence, you can trust Connor Air to deliver a seamless and professional heat pump installation in La Verne that provides reliable heating and cooling for your home or business.
If your heat pump is experiencing issues, Connor Air is here to provide prompt and efficient heat pump repair in La Verne. Our team is trained to handle repairs for all brands and models of heat pumps, ensuring that we can address your specific needs. Whether it's a minor glitch or a major malfunction, our technicians have the knowledge and expertise to diagnose and troubleshoot the problem accurately. We prioritize swift solutions to restore the functionality of your heat pump, ensuring your comfort is quickly reinstated. With Connor Air, you can have peace of mind knowing that your heat pump repair is in the hands of skilled professionals who will work diligently to resolve the issue and get your system back up and running smoothly.
Mini Split Installation
Mini splits can help you use the minimum amount of energy needed to maintain your desired indoor temperature. Ductless solutions and short-run ducted systems deliver cooled and heated air directly to the rooms they serve, without the need for noisy fans.
Duct Cleaning in  La Puente, CA
Have you heard indoor air quality mentioned before? We're sure you have, as it has become a popular buzzword in many industries. You're probably wondering, "Is it just another way to milk more money out of homeowners?" Actually, the answer is no. Indoor Air Quality (IAQ) is an important and crucial part of maintaining a healthy, comfortable home. IAQ products purify, refresh and protect your indoor air.  That includes duct cleaning. Duct cleaning keeps you system free of dust & allergens that can be spread through your house. It also keeps your HVAC system running more efficiently. Call us at (626) 286-3157 to find out more!
Duct Cleaning – Clean Duct Work
Pricing Can Range from $750.00 – $1,500.00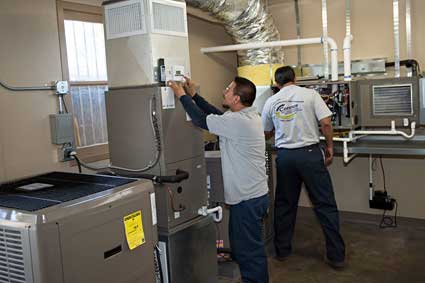 air conditioning & heating
in La Verne, CA