Air Conditioning & Heating in La Verne, CA
The HVAC system which controls the health and comfort of your home is one of the most important, and largest investments you will make as a homeowner. Modern HVAC offers many options for La Verne homeowners to take advantage of that will make your home more comfortable for less money, while offering you greater control. Connor Air is the leading La Verne HVAC contractor with the experience, training and industry certifications that have placed us at the front of cutting edge HVAC technology.
Connor Air technicians bring a high level of expertise and attention to the smallest detail to every job they do. It is one of the reasons our customers love us so much! We encourage you to trust Connor Air to assist you with any and all aspects of your home heating and cooling system – you will not be disappointed! Call us today at (626) 286-3157.
Air Conditioning
An inland summer in California can be pretty hot, but a reliable air conditioning system keeping you cool makes all the difference! The size of your Southern California Edison bills are largely determined by the efficiency of your air conditioner, and the quality of installation that was performed. Maintenance also plays a huge role in keeping those electric bills down. Whether you need an air conditioner repaired, or an estimate on a new AC installation, Connor Air is the one to call for air conditioning services in La Verne. Ask us about ductless mini split systems.
Heating Repair, Service & Installation in La Verne, CA
Our expertise doesn't stop with cooling solutions for your home. Connor Air provides highly efficient heating products from trusted manufacturers. From a gas furnace with quiet variable speed fan motors, to an electric heat pump with high SEER and OSPF ratings to bring your utility bills to an all time low! As your trusted La Verne heating contractor, we also offer seasonal maintenance plans, and repair work on any make and model of equipment. To learn more visit heating products.
Mini Split Installation
Mini splits can help you use the minimum amount of energy needed to maintain your desired indoor temperature. Ductless solutions and short-run ducted systems deliver cooled and heated air directly to the rooms they serve, without the need for noisy fans.
Duct Cleaning in  La Puente, CA
Have you heard indoor air quality mentioned before? We're sure you have, as it has become a popular buzzword in many industries. You're probably wondering, "Is it just another way to milk more money out of homeowners?" Actually, the answer is no. Indoor Air Quality (IAQ) is an important and crucial part of maintaining a healthy, comfortable home. IAQ products purify, refresh and protect your indoor air.  That includes duct cleaning. Duct cleaning keeps you system free of dust & allergens that can be spread through your house. It also keeps your HVAC system running more efficiently. Call us at (626) 286-3157 to find out more!
Duct Cleaning – Clean Duct Work
Pricing Can Range from $750.00 – $1,500.00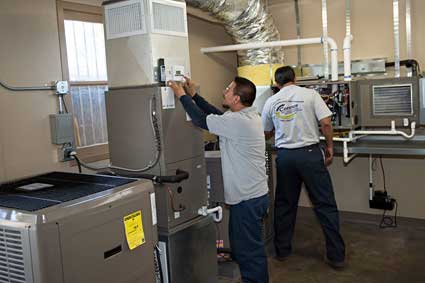 air conditioning & heating
in La Verne, CA