Air Conditioning & Heating in Covina, CA
At Connor Air, we spend each day ensuring that our air conditioning customers are completely happy with the heating, air conditioning and indoor air quality products and services in Covina, CA. Our dedication to customer service affects every part of our business. If you want a Covina Heating Contractor or Cooling Contractor who really pays attention to your unique requirements, and an HVAC contractor who has the experience needed to offer you the perfect indoor comfort solution, then you've come to the right place!
Heating Services in Covina
As the nights grow colder, the last thing you want is for your furnace to act up. At Connor Air, we're dedicated to ensuring you stay warm and comfortable throughout the winter months. Our team of skilled technicians is proficient in servicing and repairing furnaces from any brand. And if you're in need of a new furnace installation, we've got you covered.
Furnace Replacement and Installation in Covina
Investing in a high-efficiency heater is a wise choice, but it's equally crucial to ensure the furnace installation meets industry standards. At Connor Air Conditioning & Heating, we take pride in delivering top-notch furnace installations. From meticulous design to precise equipment selection and the actual installation, we ensure every step is executed with excellence.
Expert Furnace Repair
When it comes to furnace repairs, Connor Air Conditioning & Heating prides itself on its swift response times. With our extensive experience, we can efficiently repair any make and model of heating equipment. Our technicians have a keen eye for identifying issues, saving you both time and money while ensuring your home stays warm and cozy.
Comprehensive Heating Maintenance
Regular maintenance is essential to keep your heating system running at its best. Our annual clean and checks serve two vital purposes: to extend the lifespan of your equipment and to guarantee the safety of your family. Trust Connor Air to provide thorough and reliable heating maintenance for your peace of mind.
Air Conditioning Service in Covina
As the temperatures rise during the summer months, you need a dependable and energy-efficient air conditioning system to keep you cool. With today's advanced air conditioning technology, proper installation is more critical than ever. At Connor Air, our experienced team not only provides repair services but also ensures that your air conditioning system is installed correctly, so you can stay comfortable all season long. Contact us today for expert air conditioning installation and repair services in Covina, CA.
Air Conditioning Installation
From a consumer standpoint, an air conditioning system is one of the most expensive and involved purchase decisions you'll probably ever make that you usually know the least about. Choosing correct equipment is hard enough-not to mention honest, dependable, qualified contractors with the necessary skills, experience and technology to install it.
In these difficult economic times, receiving the value, benefits, service, product and workmanship cannot be achieved with the typical "low bidder." It's impossible. So many "quality" corners are cut to stay profitable that most consumers are unaware of. What you don't see; the design and workmanship mistakes made will cost you energy waste, poor performance, and inefficiency. This will substantially reduce equipment life.
Contact us for air conditioning installation in Covina.
Heat Pump Installation in Covina
Looking for professional heat pump installation services in Covina? Look no further than Connor Air. Our team of skilled technicians specializes in expert heat pump installations. We understand the importance of a properly installed heat pump for efficient heating and cooling in your home. At Connor Air, we offer top-notch service and ensure that your heat pump is installed with precision and care. Trust us to provide you with reliable and efficient heat pump installation in Covina. Contact us today to schedule your installation and experience the comfort and energy savings a new heat pump can bring.
Heat Pump Repair
If you're in Covina and in need of reliable heat pump repair services, Connor Air has got you covered. Our experienced technicians are well-versed in diagnosing and repairing heat pump issues efficiently and effectively. We understand the importance of a properly functioning heat pump for maintaining a comfortable indoor environment. At Connor Air, we prioritize customer satisfaction and offer prompt, professional service to ensure your heat pump is up and running smoothly again. Trust our expertise and dedication to deliver top-notch heat pump repair solutions in Covina. Contact Connor Air today for all your heat pump repair needs and let us restore comfort to your home.
Ductless Mini Split Installation in Covina, CA
Are you looking for a more affordable and efficient way to cool down your home? Consider going ductless. With a ductless cooling system, you'll reduce your carbon footprint and your monthly energy bill.
When you invest in a ductless cooling system, you'll save money by only cooling the areas of your home you choose and by reducing the amount of conditioned air that escapes through ductwork.
Connor Air offers all the services you need to maintain a healthy ductless cooling system in Covina, CA. From repairs and tune-ups to installations and replacements, you can count on us to get the job done right. We install Mitsubishi & Samsung mini splits.
Duct Cleaning in Covina, CA
Indoor air quality is important, and clean ducts play a role in this. Duct cleaning can also help improve the efficiency of your system. You may be surprised to see what has accumulated over the years! We provide duct cleaning services because we believe in the total health of your home, and we also do everything we can to up the efficiency of your system and lower those utility bills. Contact us today for more information.
Duct Cleaning – Clean Duct Work
Pricing Can Range from $750.00 – $1,500.00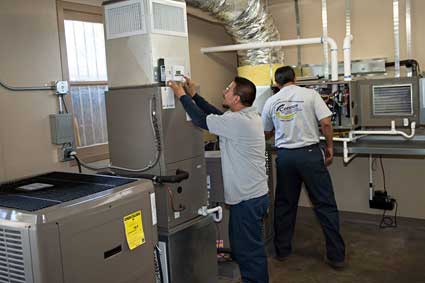 air conditioning & heating
in Covina, CA