Air Conditioning & Heating in Covina, CA
At Connor Air, we spend each day ensuring that our air conditioning customers are completely happy with the heating, air conditioning and indoor air quality products and services in Covina, CA. Our dedication to customer service affects every part of our business. If you want a Covina Heating Contractor or Cooling Contractor who really pays attention to your unique requirements, and an HVAC contractor who has the experience needed to offer you the perfect indoor comfort solution, then you've come to the right place!
Air Conditioning Service in Covina
When the summer months heat up you need a reliable and efficient air conditioner keeping you cool. Today's air conditioning systems are more complex than ever. Connor Air has the experience to repair any air conditioner.
Air Conditioning Installation
From a consumer standpoint, an air conditioning system is one of the most expensive and involved purchase decisions you'll probably ever make that you usually know the least about. Choosing correct equipment is hard enough-not to mention honest, dependable, qualified contractors with the necessary skills, experience and technology to install it.
In these difficult economic times, receiving the value, benefits, service, product and workmanship cannot be achieved with the typical "low bidder." It's impossible. So many "quality" corners are cut to stay profitable that most consumers are unaware of. What you don't see; the design and workmanship mistakes made will cost you energy waste, poor performance, and inefficiency. This will substantially reduce equipment life.
Contact us for air conditioning installation in Covina.
Heating Services
When our nights turn cold it is not the time to have your furnace acting up! Connor Air is here to ensure you stay warm during the winter months. Our technicians are able to service and repair any brand of furnace, and if you are looking for a new furnace installation.
Furnace Repair in Covina
Connor Air Conditioning & Heating offers fast response times when you need your furnace repaired. Our extensive experience allows us to repair any make and model of equipment, and to accurately identify a problem, protecting your time and money.
Furnace Replacement or Installation
Investing in a high efficiency heater is simply a waste of money if your furnace installation is not done according to industry standards. Connor Air Conditioning & Heating will give you the finest furnace installation from design and equipment selection to the actual install.
Heating Maintenance
Maintenance for heating systems is a necessary to keep your system running efficiently. Annual clean and checks are done primarily for two reasons: to prolong the life of the equipment, and for the safety of your family.
Ductless Mini Split Installation in Covina, CA
Are you looking for a more affordable and efficient way to cool down your home? Consider going ductless. With a ductless cooling system, you'll reduce your carbon footprint and your monthly energy bill.
When you invest in a ductless cooling system, you'll save money by only cooling the areas of your home you choose and by reducing the amount of conditioned air that escapes through ductwork.
Connor Air offers all the services you need to maintain a healthy ductless cooling system in Covina, CA. From repairs and tune-ups to installations and replacements, you can count on us to get the job done right. We install Mitsubishi & Samsung mini splits.
HVAC Scheduled Maintenance in Covina
Your air conditioner will not look out for you and give a heads up warning that it needs servicing before the summer heat arrives. Most likely it will wait until the hottest month of our Covina summer. Remember that your indoor comfort system is just like a car – neglect will lead to decreased performance, reliability and even shortened system life. Our scheduled maintenance program will keep your system running like it was designed to, saving you on monthly utility bills and keeping you comfortable all year long! Contact Us for more information.
Duct Cleaning in Covina, CA
Indoor air quality is important, and clean ducts play a role in this. Duct cleaning can also help improve the efficiency of your system. You may be surprised to see what has accumulated over the years! We provide duct cleaning services because we believe in the total health of your home, and we also do everything we can to up the efficiency of your system and lower those utility bills. Contact us today for more information.
Duct Cleaning – Clean Duct Work
Pricing Can Range from $750.00 – $1,500.00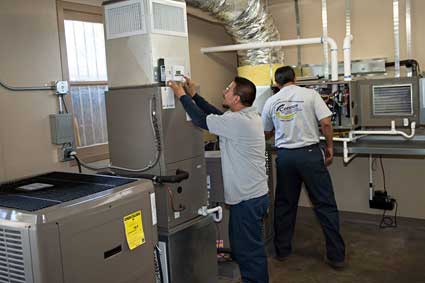 air conditioning & heating
in Covina, CA