Air Conditioning & Heating in San Marino, CA
Located in the San Gabriel Valley, San Marino has a climate that is typical of a Southern California inland valley – with summer temperatures tending to be in the high 70's, and winter temperatures tending to be in the 50's. Due to the city's location in the San Gabriel Valley, summers are generally hotter and winters often cooler than in coastal parts of metropolitan Los Angeles. Strong winds known as Santa Ana winds can bring particularly hot air in summer and fall, as the hot desert air crosses the mountains and descends into the San Gabriel Valley.
Heating Services
When it comes to heating and air conditioning services in San Marino, CA, Connor Air Conditioning & Heating is your go-to solution. Since 1976, we have been providing quality furnace repair & installation services to the community. Our experienced and NATE certified HVAC technicians understand the unique nature of each situation, and we recommend heating and air conditioning solutions that best meet your specific requirements. Specializing in environmentally-friendly furnaces, air conditioners, mini splits, and heat pumps, we offer solutions that not only save you money but also protect the environment. Trust us to keep your home warm and comfortable during chilly seasons with our heating solutions.
Heating Installation
As the colder seasons approach, trust Connor Air to provide unmatched furnace  installation in San Marino, CA. Our team of skilled technicians understands the significance of a reliable and energy-efficient heating system in your home. When it comes to heating installation, we don't believe in a one-size-fits-all approach. Instead, we carefully consider your home's unique requirements and your comfort preferences to recommend the most suitable heating system for you. Whether you choose an environmentally-friendly furnace, heat pump, mini-split, or any other system, we ensure meticulous installation that guarantees warmth and coziness throughout winter. Plus, with our financing options, you can enjoy a seamless heating upgrade without straining your budget. Embrace the comfort of a well-installed heating system by requesting a free estimate today with Connor Air in San Marino, CA.
Heating Repair
When your heating system encounters problems, let Connor Air restore the warmth and peace of mind in your home with our reliable heating repair services in San Marino, CA. With decades of experience, our NATE certified technicians possess the expertise to handle a wide range of heating issues, regardless of the make or model of your system. We understand the importance of a functioning heating system during chilly seasons, which is why we prioritize speedy and efficient repair solutions. From furnace repair to heat pump troubleshooting, our team is equipped with the latest tools and techniques to diagnose and fix issues accurately. You can count on us to deliver durable and effective repair services that will have your heating system running smoothly in no time. Don't let the cold take over – contact us for dependable heating repair services in San Marino, CA.
Air Conditioning Services
At Connor Air, we take pride in delivering reliable and efficient air conditioning services to our customers in San Marino, CA. With a team of NATE certified & licensed technicians, we strive to offer the best HVAC products and options tailored to your home, comfort needs, and budget. Whether you need AC repair, installation of heat pumps, mini splits, or furnaces, our experts are equipped to handle all makes and models. We even provide financing options for installations, making it easier for you to enjoy the cooling comfort you deserve. Request a free estimate today to experience top-notch AC solutions in San Marino, CA.
Air Conditioning Installation in San Marino, CA
Experience the pinnacle of cooling comfort with Connor Air's quality air conditioning installation in San Marino, CA. Our dedicated team of NATE certified & licensed technicians is committed to not only providing superior service but also offering the best HVAC products to meet your specific needs. When you choose us for your AC installation, we take the time to assess your home, considering factors like size, layout, and your comfort preferences. Based on our evaluation, we present you with personalized options that align with your budget. Whether you opt for a heat pump, mini-split, furnace, or traditional central air conditioning system, our experts will ensure a seamless installation process that guarantees optimum performance and energy efficiency. With financing options available, upgrading your cooling system has never been easier. Request a free estimate today and discover how our air conditioning installation services can elevate your indoor comfort in San Marino, CA.
AC Repair
When your air conditioning system malfunctions, don't let the heat get the better of you – turn to Connor Air for prompt and efficient AC repair in San Marino, CA. With a track record dating back to 1976, our experienced team of HVAC technicians has been delivering quality air conditioning and furnace repair services to homes and businesses alike. We understand the importance of a properly functioning AC system, especially during scorching summers. That's why our NATE certified technicians undergo continuous training to stay up-to-date with the latest repair techniques and equipment. We are well-versed in handling all makes and models of AC systems, ensuring that we can diagnose and resolve any issue efficiently. Our focus is on delivering long-lasting solutions, and we never compromise on the quality of our work. If you're experiencing cooling troubles, don't hesitate to contact us for a quick and effective AC repair solution in San Marino, CA.
Ductless Mini Split Installation
When we install a new ductless mini split system for you, our San Marino air conditioning technicians make every effort to minimize disruption to your home or your daily routine. Our qualified technicians show up in clean uniforms, use drop cloths, and wear shoe covers to protect floors. We provide installations for a variety of ductless mini splits. Because these systems are installed as individual units, there's no need to install ductwork. If you have an existing forced air system, and your air ducts are in poor condition, ductless mini splits may be a good option for you if you don't want to replace or seal the ducts. With a ductless mini split, you get an energy efficient way to heat and cool your home, and it also provides zone control. We can help you select how many units to install and where. We also install thermostats that are designed to work with a variety of ductless heat pump models.
Heat Pump Services
Connor Air Conditioning & Heating offers reliable heat pump installation & repair in San Marino. Our experienced technicians are equipped to handle all your heat pump needs, from speedy repairs to new system installations, ensuring that you enjoy year-round comfort with energy-efficient and eco-friendly solutions. Whether you need repair services or a new installation, we offer skilled workmanship, outstanding customer service, and high-quality products from trusted brands like Lennox. Contact Connor Air Conditioning & Heating today for all your heat pump needs in San Marino.
Duct Cleaning
Duct cleaning keeps you system free of dust & allergens that can be spread through your house. It also keeps your HVAC system running more efficiently. Call us at (626) 286-3157 to find out more!
Duct Cleaning – Clean Duct Work
Pricing Can Range from $750.00 – $1,500.00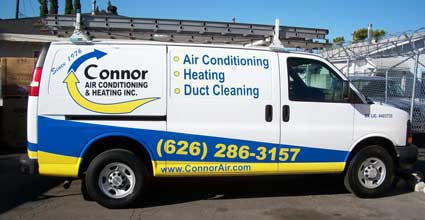 air conditioning & heating services
in San Marino, CA