Air Conditioning Installation in Monrovia, CA
If you want to install air conditioning in Monrovia, CA, call Connor Air Conditioning & Heating. Since 1976 we have been installation top of the line equipment and installation at a very affordable cost. We are licensed, Nate certified, an authorized Lennox dealer & our work is 100% guaranteed.
Whether you are looking for a 14 SEER or a 22 SEER air conditioner, we can help. We sell efficient & reliable air conditioners from Lennox. The best on the market today with the best warranties.
We make buying an air conditioner simple
There's a lot to consider when purchasing an HVAC system. We help make the process seamless by providing the tools and knowledge you need.
Step 1 – Prepare
Think about your home and lifestyle
Buying a Lennox air conditioning system is a big decision. Take this time to think about your personal comfort needs and the features that are most important for you and the climate you live in. This will help you make sure you get the right Lennox system.
Step 2 – Research
Do your homework and pick your features
Recent innovations in heating and cooling technology and energy efficiency make this a great time to upgrade your current system. We'll show you the latest Lennox heating and air conditioning innovations and help you evaluate the features you like with the current system you have.
Step 3 – Shop
Choose the system and dealer that's right for you
You want to make sure the investment you make now will last for years to come. After all, that's why you're choosing Lennox. When you choose Connor Air Conditioning & Heating, a Lennox dealer, to install your new system – your getting a licensed, Nate certified contractor. Ask about financing options, special offers and rebates, as well as tax credits.
We Take Pride in a Job Well Done.
We want to make sure that you get all the comfort you pay for! Being in business since 1976 says that we have been doing something right all these years. Any concerns after the job you may have, Connor Air will be right here to answer any questions and will be at your home promptly to address your concern. We are here to take care of you.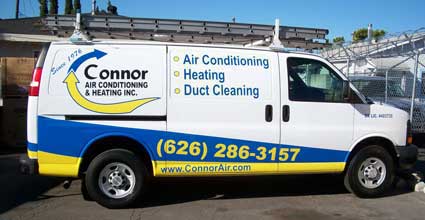 For air conditioning installation in Monrovia, CA