Air Conditioning Service in La Verne, CA
Connor air is the leader in efficient cooling solutions for the greater La Verne area. Serving California residents since 1976, we have the in-depth experience that places us ahead of the rest. Our NATE certification also exemplifies our commitment to technical excellence, and our technicians are so neat, cordial, and fast that you will be blown away with delight! Trust Southern California's leading AC contractor for the finest in cooling solutions – call us at (626) 286-3157.
AC Repair
In the unfortunate event that your air conditioner is in need of repair, you can trust Connor Air to get your system working ASAP. We know the importance of your cooling system, and our experienced technicians will quickly assess the problem, and perform the needed AC repair as quickly as possible. In the business since 1976, we understand all aspects of cooling, and can service and repair all makes and models of equipment!
Air Conditioner Installation in La Verne, CA
There are many things that go into the proper sizing and installation of a new cooling system. Not only do you need to select the right air conditioner for your specific requirements, but the indoor coil, fan motor, thermostat and ducting all play a huge role in not only the comfort of your new air conditioning system, but the efficiency it will provide you as well. Connor Air doesn't do "cookie cutter" AC installations. We custom design each install for the customer's unique requirements.
Air Conditioning Maintenance
Seasonal maintenance is critical to maintaining the performance and efficiency levels your equipment was designed to run at. You can opt to skip seasonal maintenance, and your cooling system may continue to run, but eventually your efficiency will drop, electric bills will rise, and you can even end up with expensive AC repair work as the end result. Don't become stranded in the middle of a La Verne summer – allow Connor Air to keep your AC system running at peak performance!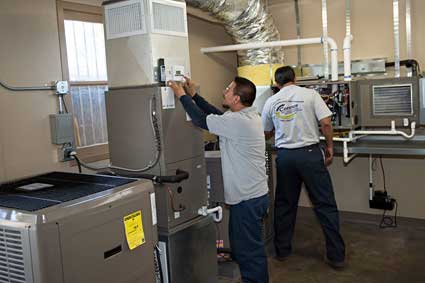 air conditioning
in La Verne, CA