Ductless Air Conditioning Installation in El Monte, CA
A ductless mini-split is the right choice if you want to stay comfortable despite the lack of ductwork in your home or add-on. Connor Air can install a ductless mini split system in El Monte, CA. We will evaluate your comfort needs and budget.
Next, we'll take the time to size the unit properly for maximum performance and comfort. If you need ductless heating & cooling throughout your home, we can link one outdoor unit to several indoor air handlers for the comfort you crave in multiple rooms. Experience efficient whole-home comfort with multi-zone systems that can address the comfort needs of everyone and every room in your home with a ductless mini split.
Many homeowners like ductless mini-splits because they provide both a heating and cooling solution from the same unit. These energy-saving systems do not require ductwork, making them an ideal HVAC solution for additions and entire homes. Mini-splits can be used to condition just one room, a garage, or your entire home.
Samsung Ductless Air Conditioning
Connor Air installs Samsung ductless air conditioning products. The Samsung ductless HVAC products are high quality and energy efficient. Ductless mini-split air conditioners are a good choice if you want a zoned air conditioning system but have no ducts in your house. The main advantages of mini splits are their small size and flexibility for zoning or heating and cooling individual rooms. Many models can have as many as four indoor air handling units (for four zones or rooms) connected to one outdoor unit. The number depends on how much heating or cooling is required for the building or each zone (which in turn is affected by how well the building is insulated). Each of the zones will have its own thermostat, so you only need to condition that space when it is occupied, saving energy and money.
Get a free estimate for a ductless mini split installation in El Monte, CA from Connor Air Conditioning & Heating.
Vivian Y.
Mini Split Installation
Professional service in helping me install my mini split system. Very responsive to any questions through email and job was done efficiently right before a heatwave. They even helped me fill out a rebate after my installation. Thank you so much and will definitely recommend!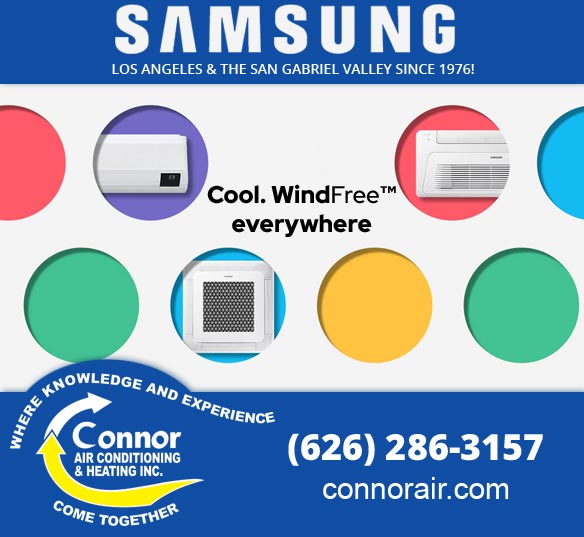 For ductless mini split installation in El Monte, CA