Air Conditioning Repair in Duarte, CA
You never know when your air conditioning unit is going to go out, but it can happen on the hottest day of the year. At Connor Air Conditioning & Heating we always provide our clients with fast service no matter what time of the day they call. Our technicians are highly skilled professionals to provide fast air conditioning repair in Duarte, CA. Connor Air Conditioning & Heating provides fast & affordable AC repairs and also offers maintenance programs that will keep your home cozy and cool during summer.
At Connor Air Conditioning & Heating you are not just another client, you are family. What separates us from the others is that we put customer satisfaction, excellent craftsmanship, and the act of making lasting relationships comes first. Discover for yourself why so many Duarte residents have our number in their speed dial and prefer us second to none. Get your home back into the comfort zone by calling Connor Air Conditioning & Heating today!
Ductless Air Conditioning Repair
Ductless mini split HVAC systems are very reliable when properly installed. Like any HVAC system, your ductless mini split will require repairs at some point. When it does, don't hesitate to call us. Prompt repairs will ensure that your ductless system will keep working. When you need fast AC repairs in Duarte, we've got you covered.
Marc E. - Altadena, CA
We are in the process of renovating our home. Doing a family room and bathroom addition. We never had heating in our home. We always use portable heaters. This is LA so it never really gets consistently freezing during winter. The city inspector required that we install heating. Jarred first came out for the consultation. He is the owner's son. He was very informative and patient. We ended up having two ductless mini splits installed. Cody, Tim and Matt came out to do the installation. They are all great guys who are very personable and professional. The units look good and their work is clean. We used to have window units for air conditioning. Not anymore! Our new mini splits are super quiet. Heating and AC work fast. Love the humidifier mode as well. Pricing is reasonable and well worth it. We are very satisfied and happy with Connor Air.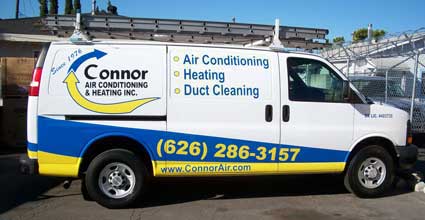 Air conditioning Repair
in Duarte, CA