Samsung Ductless Mini Split in Azusa, CA
Ductless air conditioning delivers perfect comfort anywhere you need it. Compact, versatile, and efficient, mini and multi split systems are the ideal solution to temperature control in a single or multiple rooms. There's no need for major, messy, and lengthy remodeling, and no sacrificing space and budget to ductwork. Enjoy the benefits of zoned control, advanced filtration, quiet operation, and energy efficient comfort. Whether you're looking for new installation, upgrades, regular maintenance, or prompt repair, Connor Air Conditioning & Heating provides expert and affordable service.
Samsung Ductless Air Conditioners
Samsung ductless air conditioners are meticulously designed with the user in mind, and minimizing sound levels is a key design aspect our engineers focus on. With almost whisper quiet sound levels, Samsung wall mounted indoor units can be installed in any room in your home without worrying about excessive noise. Samsung outdoor units are also significantly quieter than a traditional air conditioning condensing unit, allowing them to be installed in the most convenient location outside your home.
Each Samsung air conditioning system is powered by a variable speed Samsung inverter driven compressor. The variable speed control allows the compressor to operate at precisely the speed needed to generate the cooling and heating your home needs, resulting in increased efficiency, reduced wear on the internal components and lower sound levels.
Innovative. Reliable. Samsung.
You probably already know about Samsung's history of innovation and reliability. But did you also know this includes innovative heating and cooling solutions for your whole house? Whether it's one room or many, new construction or a new addition, your Samsung HVAC professional can help you find an efficient solution that's perfect for you.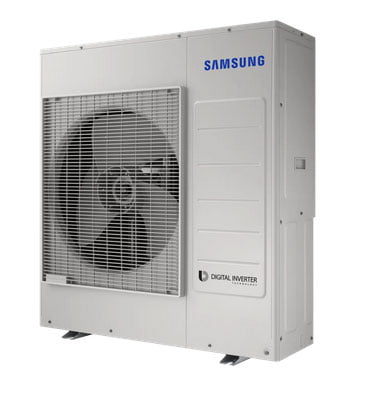 For a Samsung Ductless Mini Split Installation in Azusa, CA