Furnace Repair in Bradbury, CA
Connor Air Conditioning offers furnace repair in Bradbury for all major brands of heating equipment to our residential and commercial customers.
Our  HVAC technicians will keep your heating systems in peak condition. We install, repair and provide maintenance service for all makes and models of furnaces to keep you comfortable all year long.
Bradbury Heating, Cooling & Air Conditioning Contractor
Air conditioners and furnaces are used in most buildings in order to maintain a constant indoor temperature. Indoor climate control depends a lot on the building's HVAC system, as well as doors and windows. Without proper ventilation, homes and other buildings would get too hot or cold depending on the season. Connor Air Conditioning & Heating's contractors are professionals in working with HVAC systems, air ducts, thermostat installation, and general indoor air quality. Our HVAC Technicians install state-of-the-art systems that control warm and cool air in the most efficient way possible. Since we provide both heating and cooling elements for homes and offices, these elements need regular cleaning and maintenance in order to operate properly. If they are neglected, they can become contaminated with dust particles, pollen, and other allergens that may pose a health risk to occupants. We not only install and service heating and air conditioning equipment, but also offer preventative maintenance agreements.
If you have any questions, please do not hesitate to call us at (626) 286-3157. If you would like to schedule service online, just visit our contact page. Thank you for your interest in Connor Air!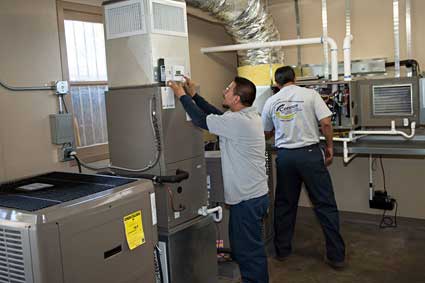 Furnace Repair in Bradbury, CA