Samsung Ductless Mini Split in Altadena, CA
Samsung Ductless Mini Split installation in Altadena, CA provide a highly efficient cooling & heating to part of your home that doesn't have normal ducting installed. These are nothing like room air conditioners that are loud and not very efficient. Connor Air Conditioning & Heating installs ductless mini splits in Altadena, CA. We are proud to offer this reliable, efficient solutions from Samsung to our customers.
Get a Free In-Home Consultation for Ductless Mini Split Installation
Every home is different & every client has different priorities or comfort needs. Connor Air will inspect your home's heating and cooling situation, identify any unique installation challenges, provide you with various solutions to find the best one that fits your home, personal comfort and budget!
Saving Energy with Ductless Technology
With a conventional HVAC split system, you're heating and cooling unused attic and duct space. Duct losses in a central heating and air conditioning system could account for more than 30% of energy consumption, especially if the ducts are not sealed properly or are in an unconditioned space like the attic. Samsung systems are duct free, meaning the installation is easy and won;t take up space. Since mini splits have little to no ducting, they don't have those energy losses associated with your conventional heating and air conditioning systems.
Partnered with a Samsung, our high-efficiency ductless systems help homeowners:
Keep more spaces comfortable
Keep energy consumption low
Save big on utility costs

Samsung offers both single and multi-zone custom mini split solutions to heat and cool even the most difficult areas.
Comfort without compromise.
Energy efficiency is one of the most important benefits homeowners are looking for in a heating and cooling system because greater efficiency means lower utility bills. When researching a new system, the first detail to look for is the SEER rating.
SEER stands for Seasonal Energy Efficiency Ratio, and it's a way of rating the maximum efficiency of an air conditioning unit. The higher the SEER rating, the more efficient it is, but the type of system can also make a difference.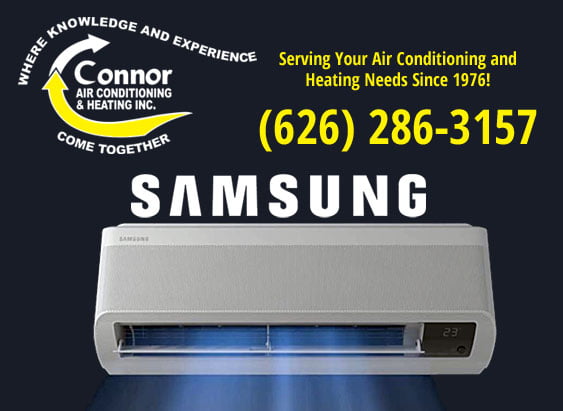 For ductless mini split installation in Altadena, CA