Air Conditioning Service in Glendora, CA
In the summer you want to keep your air conditioner working properly but when you need to call for AC repair in Glendora, CA, you can have peace of mind when you call Connor Air Conditioning & Heating. We have been fixing air conditioners sonce 1976 and we will get the job done right.
If you need an AC repair company in Glendora, CA to fix, maintain, or replace your air conditioner. We provide complete HVAC services to Glendora, CA residents, including preventative maintenance so you can avoid costly repairs and increase your energy efficiency. Cleaning and inspection should be performed a few times a year to keep your system running optimally and to ensure you'll enjoy your desired indoor temperatures during the hot summer months. Call us today if you're interested in any of our air conditioner services in Glendora, CA and we'll help you stay cool and comfortable in your home.
Our Air Conditioner Installation & Replacement in Glendora, CA
Connor Air Conditioning & Heating performs high quality heating & air conditioning installations or replacements in Glendora, CA. We take great pride in assessing your comfort needs and are a Trane Comfort Specialist and install high-efficiency air conditioning products. Armed with the best products, our installation consultants can help you identify and select the best cooling system for your home and budget.
Once we find you the right cooling system, our technicians will ensure your air conditioner installation goes smoothly so you can begin saving energy from the day it's installed. At Connor Air Conditioning & Heating, our primary goal is to provide excellent service and high quality products that help you manage rising energy costs while maintaining excellent comfort for your family.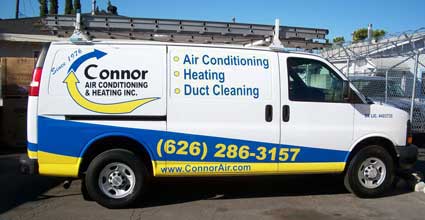 Air Conditioning Service in Glendora, CA