Air Conditioning Service in Glendora, CA
In the summer you want to keep your air conditioner working properly with air conditioning service from Connor Air. When you need  AC repair or a tune-up in Glendora, CA, you can have peace of mind when you call Connor Air Conditioning & Heating. We have been fixing air conditioners sonce 1976 and we will get the job done right.
If you need an AC repair company in Glendora, CA to fix, maintain, or replace your air conditioner. We provide complete HVAC services to Glendora, CA residents, including preventative maintenance so you can avoid costly repairs and increase your energy efficiency. Cleaning and inspection should be performed a few times a year to keep your system running optimally and to ensure you'll enjoy your desired indoor temperatures during the hot summer months. Call us today if you're interested in any of our air conditioner services in Glendora, CA and we'll help you stay cool and comfortable in your home.
Our Air Conditioner Installation & Replacement in Glendora, CA
Connor Air Conditioning & Heating performs high quality heating & air conditioning installations or replacements in Glendora, CA. We take great pride in assessing your comfort needs and are a Trane Comfort Specialist and install high-efficiency air conditioning products. Armed with the best products, our installation consultants can help you identify and select the best cooling system for your home and budget.
Once we find you the right cooling system, our technicians will ensure your air conditioner installation goes smoothly so you can begin saving energy from the day it's installed. At Connor Air Conditioning & Heating, our primary goal is to provide excellent service and high quality products that help you manage rising energy costs while maintaining excellent comfort for your family.
Armine K. - Azusa, CA
The best in the business! The whole team is very knowledgable, professional and overall amazing. We have had a few issues with our AC and have called for service several times. They repairman was very thorough and ensured all our questions were answered. He definitely went above and beyond. I would recommend them to everyone. So happy to know I can rely on them.
Dale R. - West Covina, CA
Connor Air and Heating stands head and shoulders above their competition. Prior to signing an agreement I got several estimates from competitors. Connor made everything easy to understand and provided the most for the least amount of money. They rebuilt the whole HVAC system from the ground up. No one else was to provide as much as Conner did and others in some cases were several thousand dollars more. Jarred also let me know what rebates were available and provided me with the necessary forms to process the rebates. I received a top quality Lennox unit that was properly professionally installed. The experts will tell you that the proper installation is the most important thing. I am confident that I got the most value for my money by choosing Conner Air and you will be too if you choose Connor.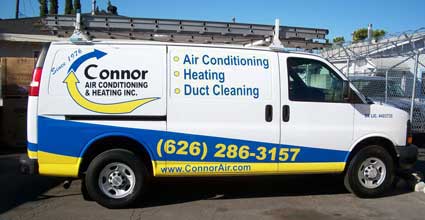 Air Conditioning Service in Glendora, CA